Quality Control Systems
Exceeding expectations to establish trust in our quality control systems.
Quality Assurance
Our company strength lies not only in our ability to respond to the wide desires and expectations of the industry. We believe that no matter how advanced and capable our technology is there is still great importance and need to handle quality control with precision and care in order to establish trust in our products. Within each respective manufacturing process, we prioritize thoroughness in our quality control, integrating quality inspections in our shipments to ensure that we provide products of the highest quality.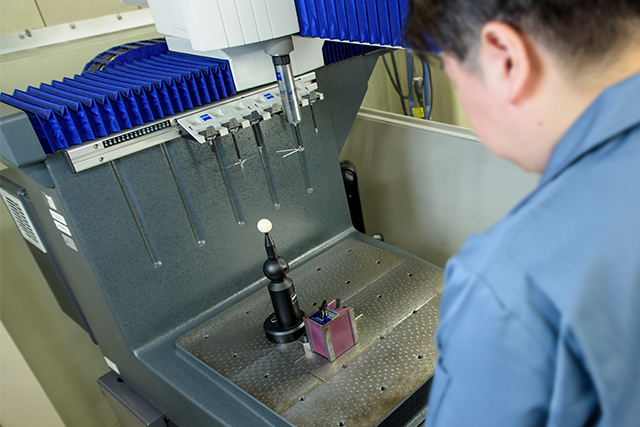 Quality Control
In 2001, our main factory and Mikata factory were recognized by the International Organization for Standardization and received the ISO 9001 award for our quality control systems. Using this as a minimum basis for our internal endeavors moving forward, we continue to manage quality control in a thorough and serious manner. In each stage of our operations be that in our materials, manufacturing, inspection, or shipment we hold records and details of all aspects of the production. In doing so, not only are we able to manage quality but also respond to any claims and questions from customers regarding a particular aspect of our product. This ability to trace all steps of production allows for the control of quality in every stage of our operations.
Main Equipment
Machine Name
Manufacturer
Model
Unit
Projector
Mitutoyo
FJ-300
1
PV-500
1
CNC Image measuring machine
Mitutoyo
CDH-400
1
QS250Z2J
1
Contour Measuring Instruments
Mitutoyo
QS200Z3R
1
TOKYO SEIMITSU
8VRFCOM 1800GH
1
Hardness tester
Matsuzawa
RXT-1
2
Toolmakers Microscopes
Olympus
SZ61
1
Mitutoyo
MF-A1010H
1
MF-B1010C
1
Digital dial indicator
Mitutoyo
IDF-150
2
Test Indicator
Mitutoyo
TI-123H
1
Digital Micrometer
Mitutoyo
MDC-25M
2
Digital caliper
Mitutoyo
CD-15PS
2
CD-30C
1
3D scanning coordinate measuring machine
TOKYO SEIMITSU
Dura Max
1
Image Dimension Measurement System
Keyence
IM-6020
1
IM-6120
1
Other
Pin Gage Set,Thickness gage,Block gauge,Thread plug gauge